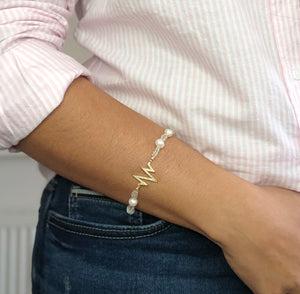 Pearl Bracelet
Beaded unique handmade freshwater Pearl perfect for you! or for a gift for that friend you love in different occasions like Christmas/Birthday/Graduation/Mother's day!
Materials: Freshwater Pearl, Golfed charm, Seeds beads.
Colours: Gold tone and White
Gift wrapped
Clasp: Bolt Ring
(Is now available a free birthday card when you buy any accessory from adrimadrid.com).
Shipping
Fast delivery. Order by 14.00 Monday to Friday for UK Next Day Delivery.
Customer satisfaction is our top priority, and we love to see you happy. Please If you have any question or requests, feel free to contact us!
Do not forget to subscribe in the newsletter to participate for a monthly prize.
Thank you so much for taking the time to look at my shop, for supporting small business and hope you come back soon!
Follow us on Instagram: @adrimadridfashion
Like us on Facebook page Adri Madrid Fashion
Adri Madrid Team