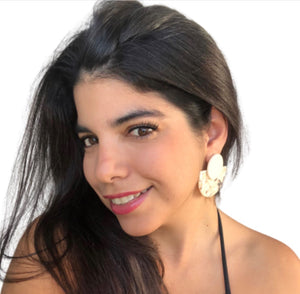 Half Moon Earrings - Beige
Beige is boring, right? No! Beige is beautiful. Suits all seasons, a white blouse for work, a white woolly jumper for winter or that white bikini in the summer! Try the Beige Half Moon Earrings and look great today.
Materials and Features
Colour: Beige.
Material: Acrylic.
Size: 5.5 cm (Wide), 5.0 cm (Length).
Weight: 16.3g.
Packaging: Comes packed in a nice box ready to give or keep.
Shipping
Fast & Free Delivery. Order by 14.00 Monday to Friday for UK Next Day Delivery.
Have a Special Occasion or Birthday coming up?
Like Half Moon Earrings? Why not buy all four? Did you know, buy all four (while stocks last) and get a £10 Adri Madrid Voucher.