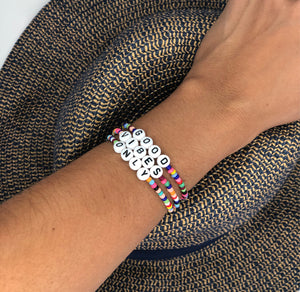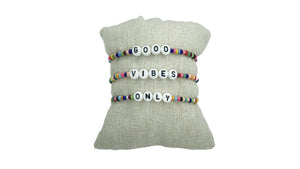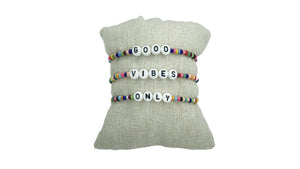 Letter Bracelet Multi-Coloured
This custom bracelet is great for expressing yourself. Customise the wording for you or that special person.....
Material

Handmade in the UK.
Strong with an elastic cord (easy to remove).
Three bracelet bands are included with the bracelet.
Colour
Multi-Coloured beads.
All letters are black font with a white background.
Red hearts are available.
Choose Your Word or Phrase
English alphabet letters available.
Maximum number of letters 7 per bracelet band, 21 in total.

On checkout of the item please

state the letters or phrase you require.
Shipping
If ordered by 14.00 we ship the same day for next day delivery in the UK.
Shipping and delivery is FREE.
Did You Know? We also stock bracelets that come with a set phrase. View the bracelet section to see more.